Women at the Metal Mines of the UK and Ireland
Lead Dressing
The earliest records outside of the South West, are from the Peak District, Yorkshire Dales and Weardale. Here, women were often sub-contracted to dress ores during the 17th and 18th centuries, either at the mines or on associated waste heaps. By the mid-19th century large numbers of females were dressing lead (and zinc) in the Rheidol and Llanidloes areas of mid Wales. Smaller numbers were also working in Yorkshire, W. Wales, Shropshire, Ireland, N. Ireland, Scotland, Cumbria, Northumberland, and the Isle of Man.
Copper Dressing
Significant numbers of females were also employed in the copper mines of Anglesey and Southern Ireland, with smaller numbers recorded in Staffordshire and Cumbria.
Iron Mines
Females were employed in large numbers in the Ironbridge area (Shropshire), the Black Country (Staffordshire) and South Wales, with records found of a few in Scotland and Yorkshire. It is believed that they worked underground, prior to 1842 in South Wales, Shropshire, and Scotland, and possibly elsewhere. At surface their work included tramming ore to the banks, as well as pulling out nodules of weathered ore then carrying them on their heads in iron boxes to the stacks, ready for smelting. (The image below, although of a woman underground worker at a South Wales coal mine, illustrates the costume and equipment used by their counterparts in the iron mines.)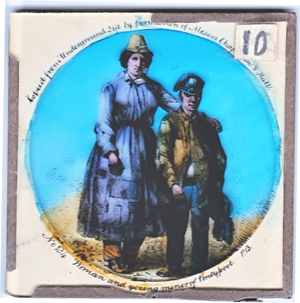 Other metal Mines
A few other females have been discovered who worked at the alum works of Yorkshire, the manganese mines of Southern Ireland, or panned for gold or dressed the ore in Scotland and Eastern Ireland.
UK & Ireland Database
Over 4000 named individuals, so far found, are listed by area or county. There are many gaps in these records. Extracting names of ironstone workers is particularly difficult, at they often worked in close proximity to those at the collieries, with generic terms being used for both (e.g. pit girl). Only those clearly working at the iron mines have been included. Any additions to this database would be very welcome.
ENGLAND: Cumbria, Lancashire, Durham, Northumberland, Derbyshire, Shropshire, Staffordshire, Yorkshire
WALES: Cardigan, Glamorgan, Gwent, Montgomery, North Wales, West Wales
OTHERS: Ireland, Isle of Man, & Scotland