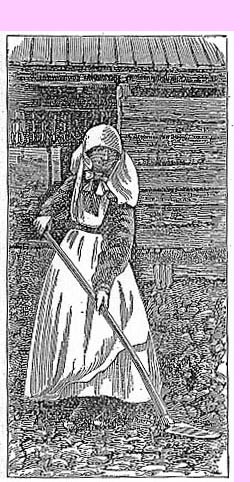 Women and children were probably working at or in the mines in Devon and Cornwall from the days of antiquity, but the earliest written records date from the Middle Ages. From this time, at least, it seems that women and girls did not work below ground, but usually dressed ore at surface. They were employed in particularly large numbers from about 1770 until 1860. From then their numbers declined; the last being laid off in the early 1920's. They were employed throughout the mining industry; at tin, copper, lead, manganese, uranium, antimony, arsenic, iron and zinc mines, as well as at the clay works and smelters. In Cornwall and West Devon they were often referred to as 'Bal Maidens' (the word Bal being ancient Cornish for mining place).
Ore dressing was by no means the only task that females undertook at the mines in the South West. On most mines there was also at least one 'counthouse woman' who was responsible for the cleaning, cooking and laundry at the mine counthouse (office). There were also some female waggoners, assayers assistants, whim horse attendants and even one 'kibble' (ore bucket) lander. In the mid 19th century a few even became mine or clay works managers. Some women also took over 'mens' jobs' at the clay works in World War 1.
Women and girls were also employed in the gunpowder mills, safety fuse works and dynamite factories. They often constituted the majority of the workforce, and were at continual risk, as is evidenced by the high proportion of females amongst the accident and fatality statistics.
By 1800, there were 2,000 or more females employed in the Cornish mines, and at least 6,000 by 1851. Between 1720 and 1920, there were probably more than 80,000 females working in all of the mine related industries in Devon and Cornwall, 30,093 of whom are recorded in our searchable database (Last updated 17th October 2023)
*** New for March 2016 *** Full searchable transcript of the 1842 Commission into the Working Conditions of Children at the Mines in Cornwall and West Devon. This includes interviews with 21 bal maidens.
For further information please see the following:
Glossary Glossary of Ore Dressing Terms
Searchable Database for named Bal Maidens and other women in the related mining industries in Cornwall and Devon (30,093 entries)
Bal Maiden Interviews from the 1842 Commission
1842 Commission Index of names for Cornwall and Devon
Links and Resources on Women at the Mines
****Second Edition****

BAL MAIDENS by Lynne Mayers.

Second & Enlarged edition, published by Blaize Bailey Books. 300 pages, 175mm x 250mm paperback. 81 illustrations, Mine Index, Bal Maidens Index.

Available now from www.lulu.com £17.95

***NEW March 2014***

A Hazardous Occupation- Women and Girls of the Cornish Explosives Industries, by Lynne Mayers, published by Blaize Bailey Books. 82 pages, 153mm x 229mm paperback.

Available now from www.lulu.com £9.95

Voices from the Dressing Floors by Lynne Mayers, published by Blaize Bailey Books. 124 pages, 153mm x 229mm paperback. 24 illustrations. First hand stories from the Cornish mines and quarries. 1773-1950.

Available now from www.lulu.com £9.95

A Dangerous Place to Work! by Lynne Mayers, published by Blaize Bailey Books, 108 page 153mm x 229mm paperback.

This book tells the story of the employment of women and children right across the mining industries of Devon and Cornwall, up until the second half of the 20th century. It includes their work at the mines, clay works, slate quarries, foundries, smelters, and gunpowder and explosives works.

Methods of Tin and Copper Dressing in Cornwall, by James Henderson 1858, transcribed by Lynne Mayers 2016, published by Blaize Bailey Books. 48 page A5 saddle-stitched paperback booklet transcribed from the Proceedings of the Institution of Civil Engineers, 1858, with all the original Henderson drawings computer enhanced. New and improved Third Edition March 2016

Available now from www.lulu.com £5.95

***NEW February 2014***

*Winner Holyer An Gof Award 2015- Best Booklet published 2014*

Bal Maidens of the St Just Peninsula- Women and Girls at the Mines of West Cornwall, by Lynne Mayers, published by Blaize Bailey Books. 41 pages, 153mm x 229mm paperback.

Available now from www.lulu.com £5.95

The North Coast Bal Maidens - Women and Girls at the Mines (Portreath to Padstow), by Lynne Mayers, published by Blaize Bailey Books. 31 pages, 153mm x 229mm paperback.

Available now from www.lulu.com £5.95

The St Austell Bal Maidens - Women and Girls at the Mines and Clay Works of the St Austell Area, by Lynne Mayers, published by Blaize Bailey Books. 36 pages, 153mm x 229mm paperback.

Available now from www.lulu.com £5.95

The Tamar Bal Maidens - Women and Girls at the Mines, Smelters, and Clay Works of the Tamar Area, by Lynne Mayers, published by Blaize Bailey Books. 32 pages, 153mm x 229mm paperback.

Available now from www.lulu.com £5.95

The Godolphin Bal Maidens - Women and Girls at the Mines of the Mount's Bay Area, by Lynne Mayers, published by Blaize Bailey Books. 28 pages, 153mm x 229mm paperback.

Available now from www.lulu.com £5.95
---